In Sölvesborgs there are one jogging track on Stiby Backe, 4 000 or 6 000 m and one jogging track in Sölvesborg by Svarta Led, 1 450 m. The one in Sölvesborg is lighted up until 10 pm.
Show more
Camping
Distance: 2.8 km
Peaceful, pleasant family campsite in a unique setting just off the beach between the beech woods of Blekinge and the sea, just 3 km from the centre of Sölvesborg.
Apartment
Distance: 10.7 km
Come and stay at one of Blekinge's most beautifully situated and mosquito-free campsites. We hope you will enjoy a relaxing stay with us whether it's in a caravan, tent, cottage or in one of our appartments.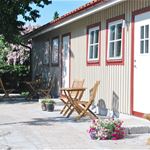 B & B
Distance: 1.8 km