Exhibition - Eva Rex
Datum: Mittwoch 21 jul 2021
- Sonntag 8 Aug 2021
Exhibition by the artist Eva Rex at the Art Hall.
Exhibition by the artist Eva Rex at the Art Hall in Karlshamn between July 21 - August 8.

"Humanized musical instruments, household utensils, letters and animals. Weather and wind, snow and ice, summer and sun. Signs, crumbs and figures. This is my world of images. Etched, roughened and polished on copper plate and printed in black As a counterweight, I work with lithographs drawn on limestone and printed in many colors. Animals, plants, houses and people. The expression is completely different from the etchings. Sometimes I relax with linoleum cuts and then the images become simpler in shape, more powerful. Very appealing graphic technique. Lately I have been playing a bit with collage. Cut in old prints and watercolors pasted on a black background. " / Eva Rex
Camping
Entfernung: 7,1 km
Our camp sites for tents and campers in Mörrum are located right by the riverside in a beautiful setting.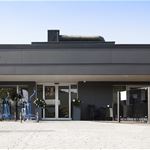 Hotell
Entfernung: 2,3 km
Spa, hotel and restaurant. Stay in a modern, relaxed, safe and warm environment.
Lägenhet
Entfernung: 20 km
Wir begrüßen Sie in einem der am schönsten liegenden Campingsplätze in Blekinge, der mückenfrei ist. Wir hoffen, dass Sie sich bei uns wohl fühlen, und dass Sie bei uns einen schönen und ausspannenden Aufenthalt haben werden egal ob mit Wohnwagen, im Zelt, Hütte oder Ferienwohnung.