Concert: Quilty - Out on the ocean
Kategorie:
Evenemang, Konsert & Musik
Datum: Freitag 24 apr 2020
Salt-sprinkled and tar-scented concert program of Irish and Scottish folk songs with the Atlantic as a foundation.
Sea shanties, emigrant songs, love ballads and songs about magnificent adventures at sea form the backbone of this salt-sprinkled and tar-smelling concert program of Irish and Scottish folk songs with the Atlantic as a foundation. Following the successes in 2018 with his acclaimed Sweden tour in conjunction with his 25th anniversary, Quilty is launching his new project "Out on the Ocean"!

The program is performed with Quilty's well-known signature of musical virtuosity, personal arrangements and sonorous vocal and offers the ear everything from swinging reels, jigs and hornpipes to lingering emotions and drastic humor.

Since the Swedish folk music group Quilty was formed in 1993, they have almost come to be regarded as living legends on the Irish folk music scene in the Nordic countries. With its densified interaction and self-honed sound, the band has made their mark on Irish folk music and put their audience on concerts, festivals, workshops, choir and symphony orchestral collaborations.

Musician:
Esbjörn Hazelius - violin, vocals, guitar
Esbjörn is known from Christmas in Folkton, Hazelius-Hedin, Eitre, as a solo artist and from musical collaborations with Sofia Karlsson, Ale Möller Band and others. Esbjörn has also produced and starred on Tomas Ledin's album "The High Coast".

Dag Westling - vocals, guitar, 5 string banjo, tin whistle
Dag Westling has played in the Irish group Eitre. Sofia Karlsson, created the emigrant-project Thousands Are Sailing together with Maria Misgeld, and co-starred on Tomas Ledin's album "The High Coast". Dag regularly tours as a solo artist.

Gideon Andersson - bouzouki, bodhran, mandolin, vocals
Gideon is a recognized multi-instrumentalist and founded Quilty with Dag Westling. Gideon has collaborated with such diverse artists as Sofia Karlsson and the classic tuba virtuoso Öystein Baadsvik and has a past in the symphony rock group Tribute.

Staffan Lindfors - contrabass
For the anniversary tour 2018, Quilty has reunited with her former band member. Staffan has also toured with Sofia Karlsson, but best known as a bass player in the East with the rest.

Tickets are sold online at Nortic.se, see the link below.
Ticket price: 195 - 265 SEK.
Hotell
Entfernung: 665 Meter
The Clarion Collection Hotel Carlscrona is a stunning hotel situated right next to the sea and only 5 minutes from the train station. You certainly won't go hungry at the hotel with both complimentary Afternoon Sweets and an Evening Meal served every day.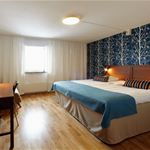 Hotell
Entfernung: 360 Meter
Welcome to Hotel Conrad, a 3-star, popular little family hotel in the middle of Karlskrona. Hotel Conrad, together with Hotel Aston, is owned and operated by the family Wenström. Hotel Conrad has 58 rooms in the three buildings called Yellow-, Red- and Culture house All overnights includes a generous continental breakfast buffé. During the day you can help yourself to coffee and tea whenever you like. On weekdays (not during summer) we also offer waffles with jam. All the rooms and the lobby have wireless internet connection free of charge for all our guests.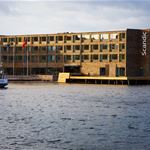 Hotell
Entfernung: 443 Meter
The Scandic Karlskrona hotel opened on 15 March 2010. The hotel has a central location by the waterside on Karlskrona's largest island Trossö. From our hotel in Karlskrona you stay close to all this naval town has to offer. Exciting activities, cultural sights and fun for the whole family are only a stone's throw away.