Love me for who I am
Kategorie:
Christmas, Konsert & Musik, Kyrkliga evenemang
Datum: Mittwoch 18 dez 2019
Music in Carl Gustafs's church.
Concert in Carl Gustaf's church on December 18 at 18:00-19:30. A concert in favor of MIKA - Medmänsklighet i Karlshamn (Compassion in Karlshamn). We all need a little extra thought during Christmas time. Free entrance.

Participants:
Why Not (Mikael Loorentz, Stefan Jönsson, Magnus Ölander, Roger and Lena)
The dance band (Roger Sjöberg, Jerker Jonasson, Stefan Jönsson, Mikael Loorentz)
One58 (Kjell Jacobsson, Johnny Granström, Lena and Roger)
Hans Fornander - Berg, Tim Earle, Maria Franzén, Jonathan Nilsson and others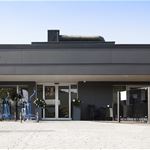 Hotell
Entfernung: 2,6 km
Karlshamn's largest and newest hotel is located just steps away from the highway and interconnects with all of Europe. Yet, close to the delightful town, convivial archipelago, beatiful golf course, and of course phenomenal salmon fishing.
Hotell
Entfernung: 462 Meter
You are cordially invited to a hotel that combines an international atmosphere with the genuine charm of a traditional Swedish city hotel.
Hotell
Entfernung: 8,7 km
Eriksberg Vilt & Natur offers a very exclusive facility where the wild animals and nature walks like a red thread through the interior. Within the natural area, which is one of Northern Europe's largest wildlife reserves, we offer secluded accommodations for you who are looking for other experiences than a normal hotel.