Svante meets Beppe Wolgers
Kategorie:
Konsert & Musik
Datum: Donnerstag 31 okt 2019
Swedish singer Svante Thuresson in an intimate and personal performance at the Theater.
Svante Thuresson performs many of Beppe Wolger's most beloved lyrics. In Beppe's own words, Svante Thuresson tells of his upbringing, thoughts and life. With humor and warmth the audience comes close to the writer, poet and man Beppe Wolgers.

Date/time: October 31 at 19:00
Duration: 2,5 hours including 20 minutes break
Coffee is served during the break.

Starring: Svante Thuresson, Claes Crona, Hans Andersson and Johan Löfcrantz

Buy tickets via link below, at Lundin's bookstore, Stora Coop Karlshamn or at Karlshamn's Tourist Center.
Remaining tickets are sold at the Theater (Karlshamns Stadsteater) from 18:00 on October 31.

Price: 275 SEK/adults, 250 SEK/seniors and 200 SEK/students or children
Telefonnummer
+46 706-62 53 70
Hotell
Entfernung: 8,3 km
Eriksberg Vilt & Natur offers a very exclusive facility where the wild animals and nature walks like a red thread through the interior. Within the natural area, which is one of Northern Europe's largest wildlife reserves, we offer secluded accommodations for you who are looking for other experiences than a normal hotel.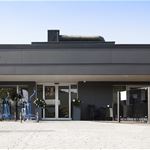 Hotell
Entfernung: 3,2 km
Karlshamn's largest and newest hotel is located just steps away from the highway and interconnects with all of Europe. Yet, close to the delightful town, convivial archipelago, beatiful golf course, and of course phenomenal salmon fishing.
Hotell
Entfernung: 547 Meter
You are cordially invited to a hotel that combines an international atmosphere with the genuine charm of a traditional Swedish city hotel.