B & B | The B&B Södra Hoka is located in a very stimulating environment. Here you can enjoy lakes, fishing waters, bathing areas, forests and hiking areas which are appreciated by many guests.
The current exterior stems from the early 1800s. The former barns are newly renovated guest rooms in different designs and pricing range. Here you can enjoy a good night's sleep and then have breakfast in the mansion's breakfast room.
The farm and buildings have been influenced by several noble owners and the current exterior stems from the late 1800's.
Conferences, children's and youth camps, courses or private guests for one or more nights can all enjoy the renovated, as well as functional rooms . Södra Hoka welcomes its guests with hospitality and puts great effort to meeting their guests wishes and special requirements. The kitchen offers savory home cooking, as well as fresh home-baked cookies.
"Stiftsgården Södra Hoka" mit ähnlichen Alternativen vergleichen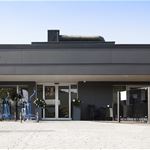 Karlshamn's largest and newest hotel is located just steps away from the highway and interconnects with all of Europe. Yet, close to the delightful town, convivial archipelago, beatiful golf course, and of course phenomenal salmon fishing.
You are cordially invited to a hotel that combines an international atmosphere with the genuine charm of a traditional Swedish city hotel.
Eriksberg Vilt & Natur offers a very exclusive facility where the wild animals and nature walks like a red thread through the interior. Within the natural area, which is one of Northern Europe's largest wildlife reserves, we offer secluded accommodations for you who are looking for other experiences than a normal hotel.