Björketorpsstenen
Adresse: Tvingvägen, 372 75 Johannishus
Karte anzeigen
Adresse: Tvingvägen, 372 75 Johannishus

Björketorpsstenen, one of the country's most remarkable rune stone monument, located at Björketorp, about 7 kilometers east of Ronneby.
The rune stone is flanked by two tall standing stones. The three stones forming a triangle and mentioned in writing for the first time in 1493, as the landmark between Edestad, Listerby and Hjortsberga parishes. Near the rune stone and the other two blocks are a burial ground which dates from the Migration Period, 400-800 AD.
The rune stone is just over 4 meters high and has a Primitive Norse inscription, a curse formula. "Mighty runes secret I hid here, powerful runes. Whoever breaks this memorial is constantly tormented by anger. Betrayal death will befall him. I trace depravity." The inscription is from the late 600s AD
Mehr anzeigen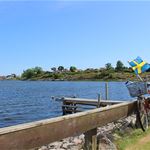 Camping
Entfernung: 12,2 km
Die strandnahe Campinganlage Dragsö Camping & Stugby befindet sich im Schärengarten von Blekinge, etwa 3 km von der Innenstadt von Karlskrona entfernt. Hier finden Sie moderne Hütten und Campingstellplätze nahe am Meer.
B & B
Entfernung: 12,1 km
Stay at a magical 200 year old mansion right next to the Baltic Sea, which today is a Seminar, Event- and Guesthouse and is surrounded by a beautiful nature reserve.
Hotell
Entfernung: 5,4 km
Welcome to Ronneby Brunn Hotel! The hotel is in South of Sweden in Ronneby, Blekinge and is one of Scandinavia´s best known conference, meeting and tourist facilities centre.