The pot holes from the glacial period, north of Asarum.
Tararp offers a beautiful landscape in which you can hike and look at reliquiems from the iceage, for exampel glacierholes. Those glacierholes are very special, seen from a geological point of view.
Glacierholes were formed through the extreme pressure of the water of the melting ice from the Inland.
Mehr anzeigen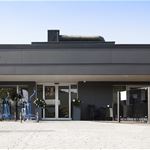 Hotell
Entfernung: 4,8 km
Spa, hotel and restaurant. Stay in a modern, relaxed, safe and warm environment.
Camping
Entfernung: 9,5 km
Our camp sites for tents and campers in Mörrum are located right by the riverside in a beautiful setting.
Hotell
Entfernung: 22,9 km
Hotel Fritzatorpet ist ein privat geführtes Hotel inmitten des Naturreservates Halen